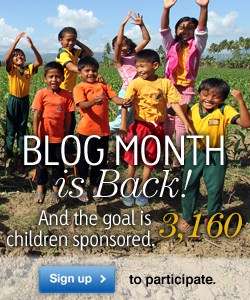 I am part of a network of bloggers called
Compassion Bloggers.
Last September was my first time participating in Compassion Blog Month. Once a week I will be sharing about Compassion and child sponsorship. If you do not sponsor a child through
Compassion
I would love for you to.... I can not begin to tell you how child sponsorship changes a child's life... and ... it will change yours. Just today we received another letter from our Erik in Bolivia. He melts my heart every time I hear from him!
So... our first assignment is to write a blog post to your child self.... wow....
Dear Teena,
It seems weird to write this to you.... because I am the grown-up you. When you are so afraid to be left in Kindergarten at 4 yrs old .... I want you to know its ok.. everything will be alright. Your mom didn't leave you there because you were bad. She is coming back to get you. She loves you.
It took you years to realize that ..... even in fifth grade you would walk toward the school and look back and wave to her... to make sure she was still there. Your blonde hair is shiny and your dark brown eyes are beautiful.
Jesus made you and loves you very much.
I want you to know that it will all be alright... that you are loved. Your grandmother, Dad, Mom, sister, aunt, uncles, cousins all love you. I know at times things seemed all mixed up but everything will be alright.
You love people.... you have a big heart and really love people. Sometimes you get hurt but do not stop loving others.
That brings real joy.
The year before you marry you will come to know Jesus as your Lord and Savior. You will be amazed to know just how very much He loves you. You will be so happy....
God is amazing and will continue to be with you....
He will never leave you
... you do not have to worry about that. YOU will never ever be alone again.
*****************************************
I remember a quote from Wes Stafford's book Just a Minute~
"I have become convinced that if God stands a child before you, for even just a minute, it is a divine appointment."
Oh the power of our words. The words we speak to our children, children we know at church or see in the grocery store or our Compassion child.... we have the power to speak Life into them.
Again, sponsoring a child can change their life forever! You can speak Life into that child... as you write letters. You can tell them that they are never alone because Jesus loves them and will never leave them!
Here is your chance.... click here to change a life forever!
Grace~ Teena