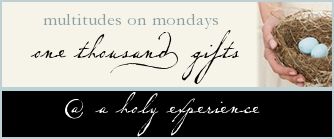 Ann Voskamp's book "
One Thousand Gifts
" is # 9 on the best seller list on
Amazon!
I think I have followed her since 2005. I remember reading about Shalom (her youngest) who was a baby. I have been encouraged, challenged and touched deeply. I have grown closer to God by Ann's words.
I am just so thankful for her.... for her book....
I am so enjoying watching how God is doing this....
For His glory....
and as Ann would say
All is grace....
It's not Monday... but I am still learning how to do widgets and links....
774. Praying about being an Advocate
775. All things new
776. new journal
777. new pens
778. warmer days
779. new books from Compassion Advocates
780. praying w/ Alyssa under covers
781. boys snuggling w/ me in the mornings
782. Grace Orlando
783. watching this journey w/ Mike/Amber & Rick/Christie
784. Baby Trey
785. visiting all of them
786. my sister
787. the book Radical
788. finding Daisy
789. new trampoline
780. quiet moments
One Thousand Gifts.....